VILLAGE OF FRUITPORT
Kayak Launch
In 2020, the Village of Fruitport received a grant from the Michigan Department of Natural Resources to assist in constructing an all accessible kayak launch and adjacent parking area. All accessible means Americans with Disabilities Act (ADA) compliance and is built to be reached or entered by people who have a disability. This kayak launch is located on the shores of Spring Lake in the Village of Fruitport's beautiful Pomona Park. The kayak launch increases recreational opportunities for residents and visitors of all ages and various abilities. The project was also supported through funds from the Village of Fruitport and the generosity of many donors. It is a no fee facility.
The kayak launch in Pomona Park is an access point on the West Michigan Coastal Water Trail Experience of the Lake Michigan Water Trail.
Launch here and paddle southwest on Spring Lake to enjoy the beautiful scenery of Fruitport while paddling toward the Spring Lake/Ferrysburg/Grand Haven area.

Launch here and paddle southeast and you'll find yourself in the quiet waters of Norris Creek. Relax your mind while listening to the wetland life all around you.
We encourage all kayak launch users to stay a while and take a stroll through Pomona Park and walk through town. We're happy you're here.
The Lake Michigan Water Trail is a 1,638-mile water trail tracing the outline of Lake Michigan's diverse coastline throughout Michigan, Illinois, Indiana, and Wisconsin.
A water trail is a designated route along a lake, river, canal or bay specifically designed for people using small boats like kayaks. The trails are the aquatic equivalent of a hiking trail. Water trails feature well-developed access and launch points; are near significant historical, environmental or cultural points of interest; and often include nearby amenities such as restaurants and overnight accommodations like hotels, bed and breakfasts, and campgrounds.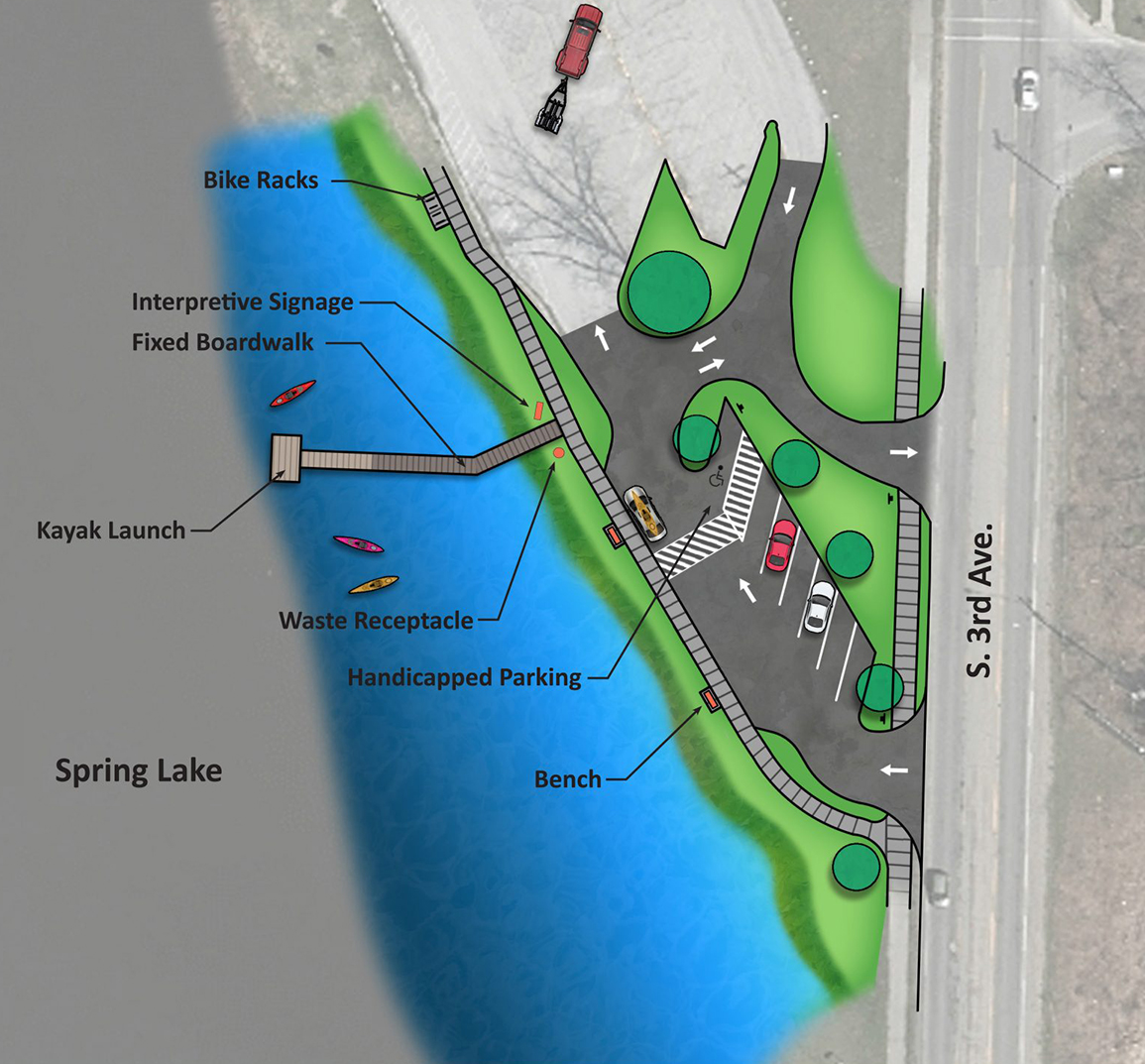 "Nice historic park in the middle of the small town of Fruitport. A modern boat launch, bathrooms, covered picnic table area, a lot of room to play catch or frisbee. And go fishing in Spring Lake."
"Fruitport Old Fashioned Days is always fun at this park every Memorial Day. A great park for kids to play and dogs to run."
"Wow what a great park for fishing, family cookouts, and outdoor concerts I believe Thursday night! Nice clean restrooms also!"